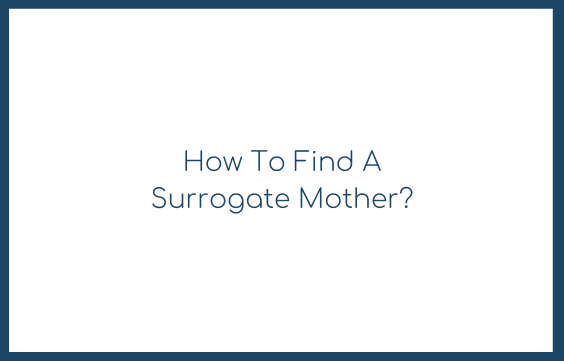 How To Find A Surrogate Mother?
How To Find A Surrogate Mother?
If you're considering surrogacy, your very first step would probably be finding the right surrogate, either independently or by working with a fertility agency or clinic
The most important step in your surrogacy journey is finding the right surrogate for you, because this will set the tone and atmosphere for the entire process.
The relationship between intended parents and surrogate can be whatever you want them to be - either long or short term, close or distant. For that reason, it's important to choose a woman who has the same expectations and attitudes as you.
How Hard Is It To Find A Surrogate?
Unfortunately, at the time of writing this article there is a world-wide shortage in surrogates due to COVID.
"In recent months, the number of available surrogates around the US and the world fell drastically and we don't see this changing any time soon," says Expecting CEO and co-founder, Nadav Raanan. "Although availability dropped, the demand for surrogates actually spiked".
What this means is that you need to be patient and know that it may take time to find your surrogate.
It's also worth noting that if you have specific requests or preferences, for example, if you're planning a twin surrogacy pregnancy or if you want your surrogate to be of specific religious faith, it may take you longer to find your surrogate.
Where Can You Look For And Find A Surrogate
Intended parents who are looking for available surrogates have a few options they can choose from.
Friends And Family (Independent Surrogacy)
An independent surrogacy is a surrogacy type in which the surrogate and intended parents or parent don't work with an agency.
In most cases, surrogates and intended parents who opt for this option are either family members, friends, or know each other some other way. On rare occasions, intended parents find a surrogate they don't know who is willing to enter into an independent surrogacy arrangement.
Since an agency is not involved in independent surrogacy, the intended parents must take care of everything, including hiring surrogacy professionals.
Find a Surrogacy Agency
If surrogacy without an agency is not for you, you could try to find a fertility agency that suits your needs and preferences.
Surrogacy agencies have their own surrogate pools and most agencies will guide you through this initial stage, help you set the goals for your journey and determine your preferences for the surrogate you will work with.
Agencies screen both intended parents, to make sure they are ready for the process ahead, and the surrogates, to make sure they meet all the surrogate requirements. However, it's important to note that some agencies medically and psychologically screen their surrogates only after they've been matched with intended parents.
Work With A Fertility Clinic
Some fertility clinics offer surrogate databases, but those are usually smaller in size.
The main advantage of working with a fertility clinic to find a surrogate is that most of them also medically screen surrogates more thoroughly beforehand to ensure they are ready for the process, while agencies tend to conduct a more thorough screening only after the surrogate is matched with intended parents.
Find A Surrogate With Expecting
Expecting was created specifically for this purpose: to make it a lot easier for intended parents to find their ideal surrogate (and egg donor).
We are not an agency, we are a free online database that gathers dozens of fertility agencies in one place.
Despite the surrogate shortage, on the Expecting platform you can digitally browse hundreds of profiles of available surrogates and fine-tune results using the advanced filtering capabilities of our search engine.
When you find potential surrogates that could be a good fit, you can schedule a no-obligation, free, online consultation with their agencies and find out more about them. There is no maximum limit to the number of online consultations you can book.
Our only goal is to help you take the first steps in your journey to parenthood, streamline this complex process by digitizing it, and add a healthy dose of transparency to every part of this process by providing reliable information about the surrogacy process, step by step.